Contec's M2M/IoT Solution "CONPROSYS"
<CONTEC> new solution "CONPROSYS" which provides a base of one-stop M2M*1/IoT*2 system taking advantages of Data Acquisition (DAQ), measurement and control, and remote monitoring systems. <Contec> starts spreading the new solution in Japan, Asia, North America, and Europe from May 2015.
The development of cloud service and communication technologies has made it possible to implement the structure of M2M/IoT at a low cost, in the manufacturing industry, "Sophistication of production systems" influenced by "Industry 4.0", which is originated from the German government, is accelerated by the IoT innovation around the world.
However, there has been a major challenge on how to cooperate host system with subsystem of coordinated devices, and how to integrate them. In host system, cloud-based platforms have come out one after another for visualization and big data analysis, and they create environment to facilitate the use of data. On the other hand, it takes great effort to integrate with sensors and field equipment, which are manufactured by each company and use communication and data format that are different depending on needs of users, in subsystem.
<Contec> has been providing DAQ, measurement and control expansion boards which are compliant with a wide variety sensors and field equipment. For more than 30 years, it has retained market leadership in the PC-based electronic measurement industry and the factory automation industry. <Contec> has delivered remote monitoring systems in photovoltaic generation and infrastructure equipment at more than 20,000 sites. <Contec>'s rich developed technologies and proven know-how will solve customers' challenges with establishment of easy-to-use M2M/IoT systems which provide "Simple" and "Convenient" devices and cloud services.
<Contec>'s "CONPROSYS" is provided not only as a package for various industries including factory automation, social infrastructures, renewable energy, and smart agriculture, but also as a stand-alone component.
The CONPROSYS is pursued to build a connectivity in both hardware and software. It is designed to facilitate installation and cabling, and to embed control script without programing knowledge. In addition, the new series is compliant with various communication standards, OPC-UA, EtherCAT, and Modbus, than has made it possible to build applications for various industries with multivendor structure.
*1 M2M: Machine to Machine *2 IoT: Internet of Things
System Package: Remote monitoring and maintenance system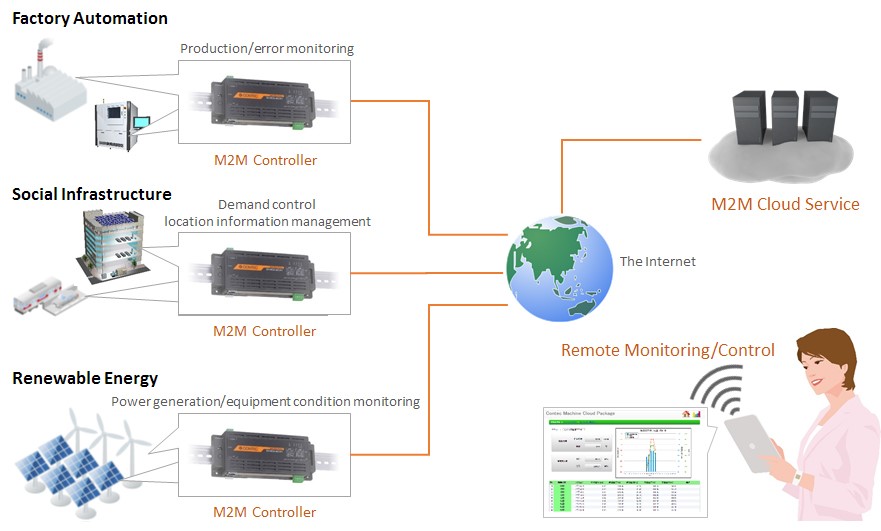 The image above is remote monitoring and maintenance package of the CONPROSYS in which devices and cloud services are combined for respective industries. This package has specialized in functions of visualization and maintenance for each industry. You can check operational status of facilities at any time via smart devices such as tablet PC. When an abnormal issue occurs, the system will send an alert message by e-mail.
Applications
Factory Automation

– Visualization of production line utilization, leveled production




– A big data acquisition and analysis of a mechanical equipment, breakdown preventive maintenance




– Position information management in plant, security

Social Infrastructure

– Facilities' demand control and energy management




– Utilities Telemetry




– Gathering river and volcanic information




– Traffic control, location information

Renewable Energy

– Remote monitoring and power control of photovoltaic generation, secondary battery, and inverter




– Facilities' demand control and energy management




– Generating and receiving management of power conditioner

Agriculture and Fishing Industry
(The primary sector of the economy)

– Automatic control and remote monitoring at a plant factory




– Agricultural machines maintenance, remote control of agricultural robots




– Product management for dairy, livestock, and fishing industries
Features
1. Smart gateway device, "M2M controller" whose control script with simple operation
<Contec>'s M2M gateway device doesn't only send a gathered data to a host side, but also controls gathered data operation and field device. You can build program with a simple flowchart by dragging and dropping rule icons. It doesn't require programming knowledge.
2. "M2M controller" and "HMI component" are compatible with multi-vendor
M2M controller and HMI component are compatible with PIC-UA and Modbus to connect with a host system such as HMI and devices connected with sensors and field equipment. They are also compatible with EtherCAT for device communication requiring real-time performance. <Contec> will continue to provide true multi-vendor environment by meeting communication standards of the world and various industries. In addition, its hardware will be compliant with safety standards around the world such as UL, EN, and CE.
3. Easy-to-use "Cloud service" features expandability and flexibility
<Contec> offers cloud type platform featuring "visualization" of a field circumstance, remote monitoring, and data management on your own. It also offers API which connects with external systems, so you can coordinate the service with your systems, such as a business system and a big data analytics tool.
Conceptual Diagram
<Contec> provides new products and services featuring a high degree of M2M/IoT system-wide connectivity, from cloud service which offers visualization and data utilization, to devices which are connected with sensors and field equipment.